WebinarCare is led by Steve Bennett, a seasoned expert in the business world. He's gathered a team that's passionate about giving you reliable advice on everything from starting a business to picking the right tools. We base our tips and guides on real-life experience, ensuring you get straightforward and proven advice. Our goal is to make your business journey smoother and more successful. When you choose WebinarCare, you're choosing a trustworthy guide for all things business.
With budding and established enterprises seeking to protect their intellectual property effectively, trademark services have become integral, taking prominence in starting an LLC. The year 2023 has seen the emergence of several top-tier trademark service providers striving to provide stellar support to enterprises across the globe. From assisting with trademark registration to monitoring infringements, these providers went above and beyond to ensure clients' marks were up-to-date and legally protected.
Among the options available, identifying the best could feel like finding a needle in a haystack. That's why we've investigated options like LegalZoom, RocketLawyer, Gerben Law, Trademark Engine, and Trademark Plus, sifted through their offerings, and distilled the top five services you should consider.
Webinarcare Editorial Team will delve deeper into the Best Trademark Services and how each can help protect your brand's identity. After all, your brand deserves the best!
On this page, you'll learn about the following:
What is Trademark?
A trademark is a distinct sign, logo, symbol, phrase, or combination associated with goods or services to distinguish its offerings from those of other entities. It establishes an identifiable representation of a brand, substantiating its uniqueness and authenticity. Trademarks are important in starting a Limited Liability Company as they signify the source of goods or services and reassure customers about product quality.
Trademarks come into play in various situations, particularly concerning brand identity and competition. Consider a start-up, "Bello Beverages," which has developed a unique exotic juice blend. They trademarked their company name, logo, and juice blend's unique name to establish their brand presence and safeguard their product. Once approved, they have exclusive rights to this trademark. If a rival company later tries to market a similar product with a name or logo resembling Bello Beverages', it will be considered a trademark infringement. Bello Beverages would have the right to take legal action, protecting its brand and discouraging any attempts to profit from its hard-earned reputation.
That's why planning to get Trademark Services is beneficial to protect your brand. We reviewed the best and provided features as an add-on with their packages.
How to Register a Trademark?
Registering a trademark involves several steps and varies by country, but the general process is similar worldwide. Here's a step-by-step guide to assist you in understanding how to register a trademark:
Identify Your Trademark: Determine what you want to trademark. It could be a name, a logo, a slogan, or a combination. Remember, your trademark should be distinctive and cannot be too similar to existing trademarks in your industry.
Conduct a Trademark Search: Before submitting your trademark application, you must check if someone else has registered an identical or similar trademark. Use online trademark databases such as the U.S. Patent and Trademark Office (USPTO) database for U.S.-based searches or the World Intellectual Property Organization (WIPO) database for international searches. If your chosen mark is already registered or too similar to an existing mark, you'll likely need to modify it to avoid infringement issues.
Prepare Your Application: Once you have a unique trademark, it's time to prepare your application. Include information about you (the applicant), a representation of your trademark, a list of goods or services that your trademark will cover, and a filing basis (either "use in commerce" or "intent to use"). The filing basis information shows if you're already using the trademark in your commerce or if you plan to use it in the future.
File Your Application: Applications can be filed online using the Trademark Electronic Application System (TEAS) for businesses in the United States via the USPTO's website. Remember, the filing comes with a fee depending on your class of goods/services.
Respond to Office Actions or Opposition: A government trademark examiner will review your application once you submit it. If they find any issues, they will send an "office action," to which you must respond within a specified period. If your trademark passes the examination, it'll be published in the Official Gazette to notify others of your claim to the mark. If no one opposes your mark within 30 days, your trademark will proceed toward registration.
Maintain Your Trademark: Upon approval, depending on your jurisdiction, you may need to provide evidence of using the trademark within a certain timeframe. Regularly renew your registration (typically every ten years in the U.S.), and watch for potential infringement to maintain your trademark.
Remember, while it is possible to register a trademark on your own, the process can be more complicated than it initially appears. If your application is incorrect or incomplete, it may be rejected. Hiring a template service like LegalZoom or employing a trademark attorney can ensure the process goes smoothly.
Recommended: Starting an LLC is a significant milestone, and securing your intellectual property with LegalZoom's trademark services is a crucial step in forging a solid business foundation. With LegalZoom, you're not just initiating a business but building a brand. That's why we recommend –

LegalZoom – $599 + Federal Fees
Best Trademark Services in 2023 – List
An array of dependable and high-quality trademark service providers have emerged, offering diverse solutions in 2023 to protect brand integrity. These services streamline registering and maintaining trademarks, ensuring brand uniqueness, safeguarding against infringement, and fortifying the legal defenses for businesses. Here is the list of the best trademark services in 2023.
5 Best Trademark Services – Breakdown
Trademark Services are really important. That's why we have provided the best trademark services for your business in this article.
1. LegalZoom
LegalZoom is one of the most well-known and reputable providers of online legal services, including Trademark Registration. They offer a comprehensive range of trademark services, including trademark search, application filing, and monitoring. LegalZoom's experienced attorneys and professionals will guide you through the process, ensuring your trademark application is accurate and complete.
Key Features
LegalZoom's trademark services are comprehensive and designed to support businesses and individuals. These features include:
Trademark Search: LegalZoom performs a basic trademark search to ensure your proposed logo or name isn't already used.
Filing of Application: They prepare and file your trademark application with the USPTO based on your provided information.
Legal Document Review: LegalZoom also provides optional review services for your trademark application by an attorney before it's filed.
Ongoing Support: After filing, LegalZoom offers additional services such as monitoring of your trademark status, alerts for deadlines for required Statement of Use or Declaration of Continued Use, and trademark protection services.
Price
Their trademark registration package includes the following;
Federal Trademark Search – Starts at $199
Trademark Registration – $599 + Federal Fees
Trademark Monitoring – $175 per year
| Pros 👍 | Cons 👎 |
| --- | --- |
| Unlimited Customer Support | Expensive Compare to Others |
| Well-Formatted Website | Advanced Search Service Provides Additional Cost |
| Well-regarded and Reliable Service | Expensive Compared to Others |
LegalZoom is a reputable provider that simplifies the trademark registration process, providing customers with peace of mind. However, potential clients must know the additional costs for add-ons and decide whether those added services are essential to their needs. You can visit the LegalZoom Review that we made for you!
2. RocketLawyer
Rocket Lawyer is another popular online legal services provider that offers Trademark Registration assistance. Their trademark services include trademark search, application preparation and filing, and unlimited customer support from their legal professionals.
Key Features
Trademark Search: Rocket Lawyer helps you thoroughly search to ensure your desired trademark is unique and not already in use.
Trademark Registration: They guide you through registering your trademark with the United States Patent and Trademark Office (USPTO).
Legal Advice: Rocket Lawyer provides access to their network of attorneys who can answer any questions you may have throughout the trademark process.
IP Watch: Rocket Lawyer offers a monitoring service to help you monitor potential trademark infringements and protect your intellectual property.
Price
Rocket Lawyer offers different pricing plans for their trademark services. The cost depends on the specific services you require and the level of legal assistance needed. Monthly membership is $39.99 a month, and yearly membership is $239.99 a year (half price after the current discount).
| Pros 👍 | Cons 👎 |
| --- | --- |
| User-Friendly Platform | Limited Personalization |
| Affordable Pricing | Additional Fees |
| Access to Legal Professionals | Optional Legal Review Services |
| Additional Legal Services | Potential for Delays |
It's important to note that the features, prices, and pros and cons mentioned above are subject to change and may vary over time. It is recommended to read Rocket Lawyer Review for accurate information regarding their services.
3. Gerben
Gerben Law specializes in trademark services and offers a range of features to assist its clients. Gerben Law's trademark services' key features, pricing, and pros and cons are here.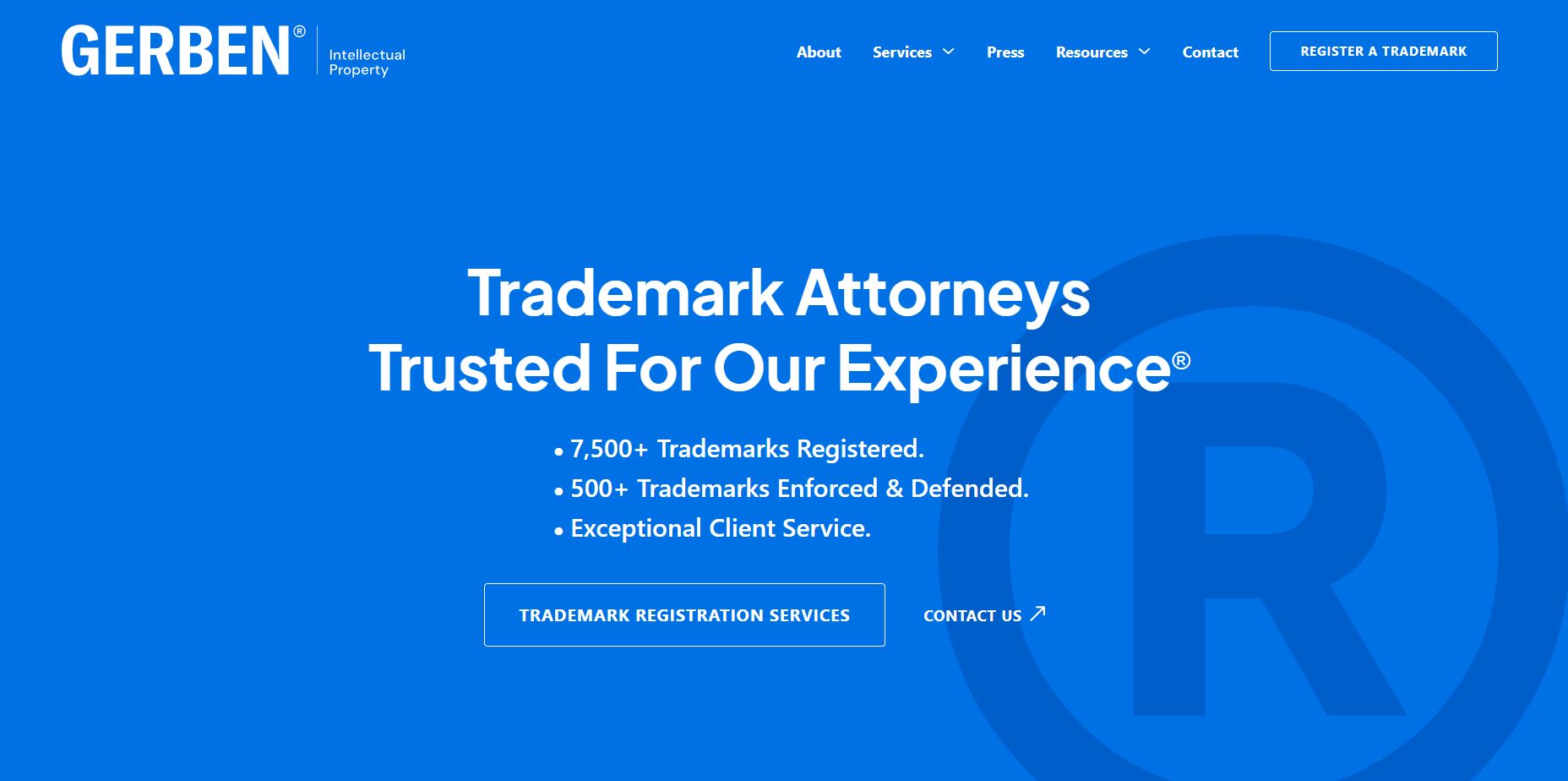 Key Features
Trademark Search: Gerben Law conducts comprehensive trademark searches to ensure your desired trademark is available for registration and free from potential conflicts.
Trademark Registration: They handle the complete trademark registration process, including drafting and filing the necessary legal documents with the USPTO.
Trademark Monitoring: Gerben Law offers ongoing trademark monitoring services to identify potential infringement and protect your brand actively.
Legal Advice: Their team of experienced trademark attorneys provides personalized legal guidance and advice throughout the trademark process.
Trademark Renewals: Gerben Law helps with trademark maintenance by handling renewals to ensure continued protection of your trademark.
Price
Gerben offers a $350 UPSTO filing fee per class and a $1,500 trademark registration package (plus government fees) that includes the following;
Federal Trademark Search using CORSEARCH software
State Trademark Search using CORSEARCH software
Common Law Trademark Search
Attorney Consultation Time
Drafting and Filing of Trademark Application
Responding to Non-Substantive Office Actions
Sending Registration Certificate
| Pros 👍 | Cons 👎 |
| --- | --- |
| Expertise and Experience | Potentially Higher Costs |
| Individualized Attention | Limited Availability |
| Solid Reputation | Geographic Limitations |
| Wide Range of Service | |
It is recommended to visit Gerben Law's official website or contact their firm directly for the most up-to-date and accurate information regarding their trademark services.
4. Trademark Engine
Trademark Engine is an online platform that provides trademark registration services. Here are the key features, pricing, and pros and cons of Trademark Engine's services:
Key Features
Trademark Search: Trademark Engine helps you conduct a comprehensive search to check if your desired trademark is available for registration.
Trademark Registration: They assist you in preparing and filing your trademark application with the USPTO.
Application Monitoring: Trademark Engine keeps track of your application's status and provides updates throughout the registration process.
Legal Support: They offer basic legal guidance and support through their team of trademark professionals.
Document Preparation: Trademark Engine prepares and submits the necessary documents for your trademark application.
Price
Trademark Engine has different pricing plans based on the level of service and support you require. Prices typically range from $149 to $499, excluding additional fees, such as the USPTO filing fee.
| Pros 👍 | Cons 👎 |
| --- | --- |
| Affordability | Limited Legal Support |
| User-Friendly Platform | Lack of Personalization |
| Timely Updates | Potential for Delays |
| Money-Back Guarantee | |
It's important to note that the features, prices, and pros and cons mentioned above are subject to change and may vary over time. Visiting Trademark Engine's official website or contacting customer support for the most up-to-date and accurate information regarding their trademark services is recommended.
5. TrademarkPlus
TrademarkPlus is a trademark services provider offering comprehensive services to help individuals and businesses protect their trademarks. Their key features include trademark registration, monitoring, enforcement, renewal, and portfolio management.
Key Features
Trademark Registration: Assisting with registering a trademark, including conducting a comprehensive trademark search, preparing and filing the necessary documents, and responding to office actions.
Trademark Monitoring: Regularly monitoring trademark databases to identify any potential infringements or unauthorized use of your trademark.
Trademark Enforcement: Taking legal action against individuals or businesses that infringe upon your trademark rights and protecting your brand's reputation.
Trademark Renewal: Managing the renewal process to ensure your trademark remains valid and protected.
Trademark Portfolio Management: Providing guidance on building and managing a strong trademark portfolio, including advice on filing strategies and international registration.
Price
The cost of trademark services can vary depending on factors such as the complexity of the registration process, the number of trademarks involved, and additional services required. Generally, the trademark registration fee costs $199 + Government fees for searches, monitoring, enforcement, and portfolio management.
| Pros 👍 | Cons 👎 |
| --- | --- |
| Expertise | Cost |
| Time-saving | Limited Control |
| Comprehensive Services | Potential for Delays |
| Risk Reduction | |
| Worldwide Protection | |
Researching and selecting a reputable trademark service provider that meets your specific needs and budget is important.
Can I Register My Trademark?
You can register your trademark by submitting your application and filing the fee to the US Patent and Trademark Office (USPTO). While this may save you money, remember that a small error or oversight can be costly, so using an attorney or trademark registration service is usually a good idea.
Is Trademark Registration Necessary?
Trademark registration is one way to protect your brand legally. Your company's logo, digital images, slogan, and visual identity must be secure. This safeguards your brand name, logo, and slogan against unauthorized use.
Trademark registration is not required. You can operate your brand without a trademark reservation. However, it is recommended that you register your trademark to avoid future confusion. Your brand will be legally protected.
What Kinds of Things Can Be Trademarked?
Company name
Digital image, logo
Tagline, slogan
Drawing or design
Sound
Trademark Security
You must register your brand with the USPTO to legally protect your trademark. Along with registering your trademark, you must also legally protect it. There are three ways to safeguard your trademark. These are as follows:
Common Law
Using a brand name, logo, or other similar things without registering it is considered a common law trademark. You can obtain Common Law Trademark protection by registering your mark. In this case, your trademark rights will be limited to the area/region where you operate your business.
Trademark Protection at the Federal Level
Your trademark will be protected nationwide in this case. You can operate your business nationally once you have protected your trademark. Your brand will be safeguarded across the country.
Protection for Trademarks
State trademark protection grants you rights only within the state. Because the brand name or logo is not protected outside of the state, others can use or register it.
How Long Does It Take To Register a Trademark?
Depending on the potential issues that may arise, the trademark registration process typically takes between 6 and 12 months. Although some applications are approved in much less time, it is best to expect a longer wait; the USPTO receives hundreds of thousands of trademark applications each year, which increases processing time. In addition, the trademark office may request additional documentation or communication. As a result, applicants should be prepared to provide all requested information as soon as possible to expedite the registration process.
FAQ
What is a trademark service?
A trademark service assists individuals and businesses with registering and protecting their trademarks, including conducting trademark searches, filing registration applications, responding to office actions, and managing any legal issues related to trademark use or infringement.
What are the best companies that offer trademark services?
Some well-regarded companies offering trademark services include LegalZoom, Rocket Lawyer, Trademark Engine, Gerben Law, and TrademarkPlus.
How much do these services typically cost?
The cost of trademark services can vary widely depending on the specific services required. Initial registration services typically range from $150 to $400, excluding government filing fees.
Can these services help with trademark searches?
Yes, most trademark service providers assist with conducting comprehensive trademark searches to identify potential conflicts with existing trademarks.
How quickly can these companies register a trademark?
The trademark registration process can take six months to a year or more, depending on various factors, including the complexity of the application and the backlog at the United States Patent and Trademark Office (USPTO).
Can LegalZoom help with trademark enforcement?
LegalZoom can assist with trademark enforcement, including sending cease and desist letters and initiating legal action when necessary.
Does Rocket Lawyer help with international trademark registration?
Yes, Rocket Lawyer can help clients who wish to register their trademarks internationally.
How can trademark services assist with trademark renewals?
Trademark services can help with the necessary steps for renewal, ensuring that your trademark remains current and legally protected.
What additional services does Trademark Engine provide?
Trademark Engine provides additional services such as copyright registrations, patent applications, and domain disputes.
What is the process of working with TrademarkPlus?
With TrademarkPlus, you first conduct a trademark search, then file for registration; TrademarkPlus then assists with filing the necessary documents with the USPTO.
Can trademark services help prevent trademark infringement?
Part of the services offered typically includes monitoring for potential trademark infringement and taking any necessary enforcement actions.
Can LegalZoom handle trademark disputes?
LegalZoom can help you navigate trademark disputes and refer you to a network attorney if you need legal representation.
What does trademark monitoring involve?
Trademark monitoring involves tracking the use of a registered trademark to identify and respond to instances of infringement quickly.
What is a trademark portfolio?
A trademark portfolio consists of all the trademarks a business owns. Managing it can involve monitoring renewal dates, ensuring correct usage, and pursuing infringement matters.
Can I get my money back if my trademark registration fails?
Policies depend on the individual service provider. Some offer a money-back guarantee for service fees, but government fees are generally non-refundable.
How often should I renew my trademark?
In the U.S., a trademark registration must be renewed between the 9th and 10th year after the registration date and every ten years after that.
Can trademark services assist with renewals?
Yes, most services offer assistance with renewing your trademark, making the process easier for you.
How do these services ensure the uniqueness of my trademark?
Most services conduct comprehensive trademark searches to determine if a similar trademark exists and advise accordingly.
Can these services help even after my trademark is registered?
Yes, trademark services often provide monitoring and dispute resolution assistance even after registering your trademark.
Can these providers help me with the trademark strategy?
Many trademark service providers offer guidance on building and maintaining a strong trademark portfolio to boost your brand's value.
How to Choose the Best Trademark Service for Your Business
Choosing the Best Trademark Service for Your Business

A strong trademark can be a valuable asset for any business, contributing to its brand recognition and distinguishing it from competitors. However, navigating the complex world of trademarks can be overwhelming, especially for small businesses without legal expertise. This is where trademark service providers come into play. Selecting the best trademark service for your business can make all the difference in securing and protecting your brand image.

One key aspect to consider when choosing a trademark service is their expertise and specialization. Trademark laws and regulations vary from country to country, and sometimes individual region to region. Therefore, it is important to select a service provider that is specialized in the jurisdictions where you plan to establish your brand. A reputable trademark service understands the intricacies of local laws, ensuring your trademarks are properly protected.

Furthermore, the process of selecting a suitable service provider necessitates thorough research. One should consider the reputation and track record of the service provider under consideration. Are they well-established in the industry? Do they have a proven record of successful trademark registrations? Client reviews and testimonials can offer valuable insights into the experiences of previous customers, helping you gauge the quality and reliability of the service provider.

Another crucial aspect is the extent of assistance and support the trademark service offers throughout the registration process. Trademark applications often involve complex legal procedures, and without proper guidance, it can be challenging to navigate them appropriately. Consequently, it is essential to select a service provider that offers comprehensive support, assists in completing the necessary paperwork, and handles the correspondence with trademark offices. This minimizes the risk of mistakes or oversights, potentially saving both time and money in the long run.

The costs associated with trademark services are also a significant consideration. Prices may vary between different providers and depend on the scope of the services included. It is crucial to assess your specific needs and determine what services align with your budget. Nonetheless, it is important to note that opting solely for the cheapest service may not be the wisest choice. The quality, efficiency, and reliability of trademark services should be the primary determining factors rather than just the lowest price.

In addition, it is advisable to inquire about the service provider's familiarity with your industry. Understanding the specific requirements and dynamics of your business sector can significantly impact the effectiveness of the trademark service. Whether it be fashion, technology, or hospitality, a service provider well-versed in the nuances of your industry can better tailor their services to suit your needs.

Lastly, a transparent and easily accessible communication channel with your chosen service provider is of utmost importance. Trademark registration is a time-sensitive process, so timely and effective communication ensures that any issues or concerns are addressed promptly. A responsive service provider can help alleviate doubts, offer guidance, and ultimately provide a smoother trademark registration experience for business owners.

In conclusion, selecting the perfect trademark service for your business requires thoughtful consideration. Prioritizing a service provider's expertise, track record, assistance throughout the process, cost-effectiveness, industry knowledge, and communication ability are key factors in making an informed decision. Remember, your trademark is a valuable asset, so investing the time and effort into picking the best trademark service can contribute to the success and longevity of your business.
Conclusion
A standout trademark service combines an understanding of intellectual property law with a client-centric approach. It helps businesses seamlessly navigate through complex trademark processes, ensure long-term protection, and counter infringement threats with appropriate action.
Choosing the perfect trademark service depends on your business's needs and budget. The companies listed in this article have all proven their aptitude in the field, making them solid choices for any business seeking trademark services in 2023. Stay safe, and protect your intellectual property rights by engaging one of these top-notch providers. The future of your enterprise depends on it!